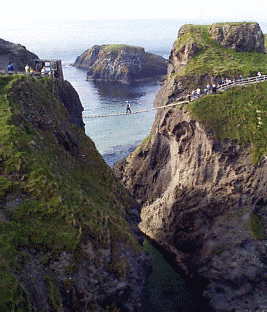 Local fishermen have kept a bridge here since the mid 1600s. The name Carrick-A-Rede (Carraig-a-Rade) means the rock in the road The road being the sea migration route of salmon past the island to which the bridge crossed from the mainland.
Ireland's top tourist attraction and World Heritage Site, the world famous GIANT'S CAUSEWAY whose six-sided basalt columns were formed, not as the geologists say by volcanic eruptions, but rather as a result of the romantic notions of giant Finn McCool who wished to build a 'path' to take up a challenge from Benandonner, a rival Scottish giant. The honeycomb of hexagonal columns left behind cast up unique and curious shapes with imaginative names like Wishing Well, the Giant's Boot, the Giant's Granny and the King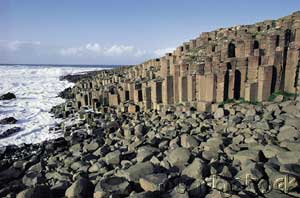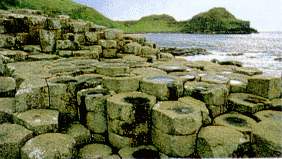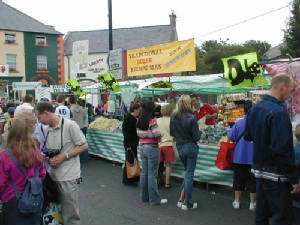 Watch intense negotiations between traders as horses are bought and sold on the shake of a hand at Ballyclare May Fair. Horses, sheep and countless stalls are all part of the every popular Ould Lammas Fair in Ballycastle, one of the oldest in Ireland. Sample the local specialities - 'Dulse' - a dried edible seaweed and the deliciously chewy 'Yellow Man', made from a closely guarded secret recipe.
It's a coast line sprinkled with historic castles, churches and forts, including Dunluce Castle. Many are now just ruins but each holds the memories of a mysterious and heroic past. A past populated by seafaring Vikings and swashbuckling tales of the ancient Irish clans.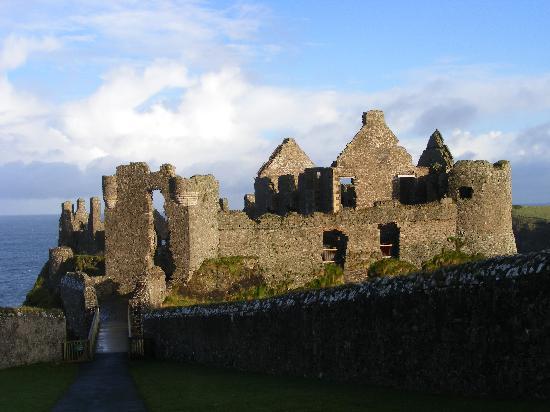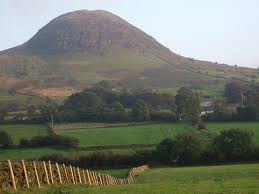 Slemish is the remains of the plug of an extinct volcano. Its distinctive appearance —its upper reaches are very steep and rugged, in contrast to the tidy fields on its lower westward-facing slopes and the relatively flat bogland to the east— causes it to dominate the landscape for miles around.
Tradition holds that Slemish Mountain, where Saint Patrick, the Patron Saint of Ireland, is said to have tended livestock as a slave boy in the 5th Century.
RATHLIN ISLAND - A HIDDEN TREASURE.
Rathlin Island lies just over six miles north of the pretty seaside resort of Ballycastle, and 14 miles from the Mull of Kintyre, Scotland.
The island is L-shaped; one side is four miles long, the other three, and it is nowhere more than a mile across. It is almost treeless and most of the coastline is cliff, much of it over 200 feet high.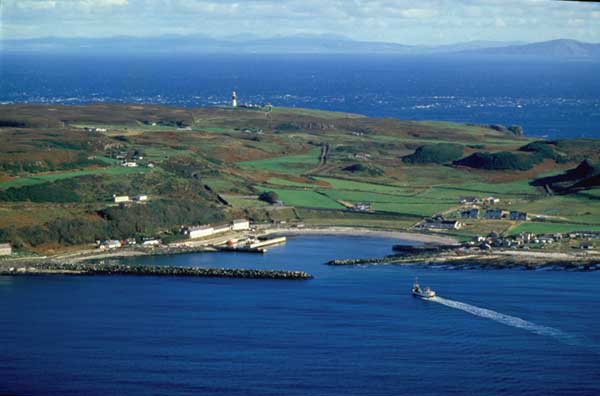 The Causeway Coast and Glens provide a journey of exploration, where imagination meets reality and where every village and town, castle and rocky shore are just waiting to be discovered.